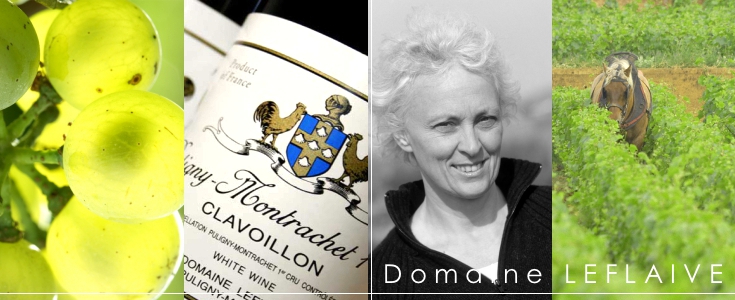 Domaine Leflaive
Since 1953, the domaine was managed by Joseph's sons Vincent Leflaive and Jo Leflaive, and it was during this time that its reputation as a top Burgundy producer was built up. In 1990, Vincent's daughter Anne-Claude Leflaive and her cousin Olivier Leflaive took over the running of the domain. In 1994, Anne-Claude Leflaive took over the running of the domain on her own. Olivier Leflaive was also running a négociant business. So Domaine Leflaive and Olivier Leflaive's négociant business are completely separate entities. There is no relationship in terms of quality of wine.
Sworn friend of Madame Leroy, Pure Biodynamist,
Anne-Claude Leflaive.
In 1989, Pierre Morey arrived at domaine as a wine-maker. He had deep knowledge and experience of biodynamie and he stopped using pesticide and chemical fertilizer immediately.
Anne-Claude took the initiative of domaine management in 1990 and she began implementing biodynamie to their vineyard gradually. After the 8 years experiments, domaine Leflaive converted all their vineyards to biodynamie.
Anne-Claude had belonged to
Renaissance des Appellations(group of Nicolas Joly)
and was very active as a one of the key person. Besides, she and
Madame Leroy
established "Biodyvin" together with Michel Chapoutier(Rhone). Anne-Claude became big icon of Biodynamie in Bourgogne same as
Leroy
,
DRC
and
Comtes Lafon
.

In 2006 she was named "the world's top white winemaker" by Decanter magazine and in 2014 the Institute of Masters of Wine named her "Winemaker's Winemaker". She ended her life on 5th April 2015. But her spirit never die. stayin' alive in the bottle.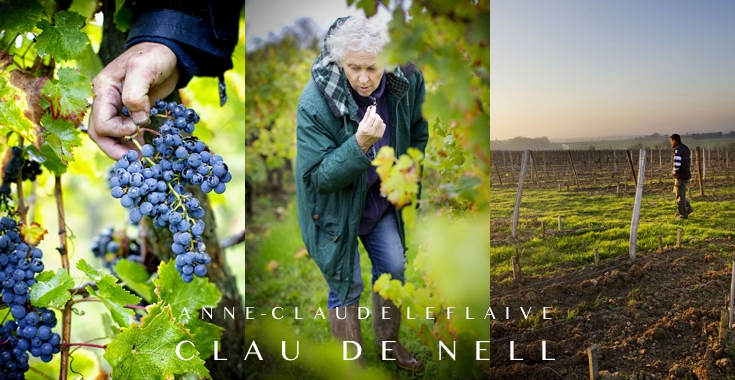 Clau de Nell

Clau de Nell was founded in 2000 in the Anjou area and Anne-Claude Leflaive took over the domaine in 2008. Now the domaine produces wine from Cabernet Franc, the local Grolleau grape and also Cabernet Sauvignon. The vineyards of Clau de Nell have been biodynamically cultivated since 2000. Originally Grolleau, Cabernet Franc and Cabernet Sauvignon have been planted in 7ha, and Chenin Blanc was planted in 2013 for 2.5ha. Clau de Nell is totally isolated(no other vineyards around there), so that is ideal environment to create small world of ecosystem.



Cabernet Franc



From 5ha vineyard, 40 years old vieilles vignes. Wine-making : De-stemmed harvest, native yeast, 20 day maceration without extraction, gentle cap punching, limited pumping over, infusion techniques, at a temperature between 18 to 25°C. Aged for 18 months on fine lees in 5 years old barrel from Domaine Leflaive. Wines are bottled without filtration or fining on a fruit day.