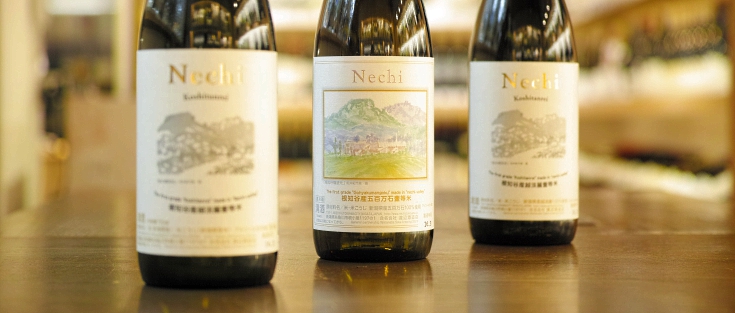 ドメーヌ酒蔵の代表格
明治元年(1868)に渡辺平十郎が新潟県の西の端、富山県と長野県に隣接する山あいの根知という小さな谷で酒造業を始める。東西にひらけた形の根知谷の上流には日本百名山のひとつ雨飾山があり、豊富でやわらかな地下水は酒造りには最適。

平成13年(2001)を最後に杜氏制度を廃止して、社員による酒造体制に移行。平成15年度(2003)から米作りに着手し、自社栽培による原料米生産を本格的に展開し、平成24年には農業生産法人(株)根知ライスファームを設立する。現代表の渡辺吉樹氏は6代目。

「日本酒の本質的な価値は、原料米の生産から酒造りまで、酒蔵のある土地で手がけることにある。根知谷の水と米で日本酒を造り、根知谷とともに生きてゆく。それが私たちの生き方です」

自社栽培・契約栽培併せて、地元の根知谷で原料米の生産から本格的に取り組み、4月から9月まで米を作り、10月から3月まで酒造り、というワインで言うならドメーヌ型、テロワール重視の酒造りを展開。こういった酒蔵は他にも数件ありますが、渡辺酒造店 - Nechiはその代表格です。
Nechi - Terroir and Domaine concept.



The location is the west end of Niigata among the mountains, a small valley called "Nechi" borders Nagano and Toyama. Nechi-river is 110metres above sea level, a tributary of the Hime river going up for 4miles(10Km) from the coast of the sea of Japan.

In winter, heavy snow covered the area with 2-3metres of snow that provides soft groundwater sufficiently. Those factors make Nechi valley perfect for producing both rice and sake.

Watanabe Sake Brewery grow rice in summer time April to September, and make sake in winter time, October to March. Although Watanabe Sake Brewery is a small producer, all the work is to be done carefully by a united effort of us both experienced craftsmen and young fellows. Watanabe Sake Brewery's philosophy has led them this style, integration of growing and brewing unlike most sake brewers. Watanabe Sake Brewery raise sake rice full-scale in only our local.

Watanabe Sake Brewery "domaine brewer" do not only tell you about sake, but about terroir too. You can taste sophisticated rice in the beverage, and feel the fragment of golden rice fields.

Watanabe sake brewery was established by Heijuro Watanabe in 1868, located same land as it is now. During World War Two, Watanabe family fought to protect the brewery even though they lost a young successor Seizo Watanabe the fourth who entered the army. Their effort made the company stand and continues up to today. The head of the brewery now is Yoshiki Watanabe the sixth.

Until 2001, Watanabe had worked under the Toji (the master brewers) system. But The sixth Watanabe determined to discontinue the system to break through the situation with no growth. His challenge was a big change to a new system of brewing by the staff not only Toji. He seriously trained the staff for years to reach a certain level at each section of its need.

Watanabe sake brewery also started rice cultivation in 2003 and set to work on full-scale sake rice production for our own sake unlikely most sake brewers and then "Nechi rice farm Co.,Ltd." was established in 2012.

Watanabe sake brewery is always to be with Nechi-valley, to make sake with rice and water from there, and most of all, to live with it and adore beautiful Nechi-valley.