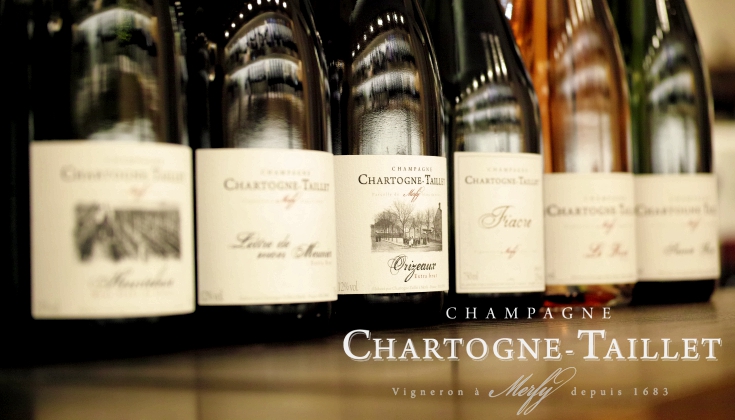 Disciple of Selosse revives terroir of Merfy
CHARTOGNE-TAILLET family has been planting at the village of Merfy since 18th Century. Merfy is not classified, but Alexandre CHARTOGNE and his brothers believe the potential of this land and revived this historical maison by inheriting the spirits of Anselme Selosse and working with
Claude and Lydia Bourguignon(soil scientist)
.

Production in tiny, but it is worth to experience the cuvees which express the taste of single vineyard and artistic minimal combination of parcels.
Jacques-Selosse的門生、產量極少的自家香檳田
於MERFY有過百年歷史的CHARTOGNE–TAILLET 一直醉心於該區的香檳種植,近來更以Anselme-Selosse為師父,把他的技術和理念放到釀造上以成就出今天的CHARTOGNE-TAILLET。

- 他們是該區唯一同時擁有葡萄田及釀造香檳的酒莊,他們只求質量不求產量,其中一款年產只有1800枝,可見他們的執著。

- MERFY是距離REIMS 十五分鐘車程的小村,風土獨特,我們建議可以用寬口酒杯飲用。

- 值得留意每款酒的酒標背都有詳盡列明他的來源, 足以證明CHARTOGNE–TAILLET 對MERFY風土的信心和執著!
Limited production, terrior and quality driven
The up bringing and experience has provided Alexandre CHARTOGNE and his brothers' a perfect platform to embark their journey of wine-growing and making. And in 2006 Alexandre begins to took over from his father and in-charge with CHARTOGNE-TAILLET's wine making. His determination to create the highest quality terroir-expressive wines has lead CHARTOGNE-TAILLET became one of the most sought after champagne in the international market.
The Soil
Mix of sandy and clay soil – unlike other places of champagne fills with chalk, The village of Merfy portrays an entire difference phase of champagne style, with a more plunging and good structure on the palate. The rich and rounder wine texture may require a wide mouth wine glass rather than a flute - champagne glass. This will enhance the contact with air, and balance the power of wine and shows the finest side of aroma and finishing.
Anselme Selosse and Claude and Lydia Bourguignon
The family has also worked with the Selosse family on wine making, and Claude and Lydia Bourguignon on analyzing the soil profile of the vineyard. The support has enhance Alexandre's skill set and confidence on handling his vineyards and champagnes.

Recording vintage since 1700

The family has kept the tradition of continuos written diary on viticulture and winemaking. This defines the love, care and technique that has been done in the past, adds a layer of meaning to the wine!


承接著CHARTOGNE TAILLET家族的傳統, Alexandre CHARTOGNE 於2006年從爸爸手上接管釀酒的工作,為表達出每一款酒都能平衡風土特色,Alexandre 與 Claude and Lydia Bourguignon合作,把每塊葡萄田逐一細心分析,找出最具代表獨特風土的釀造單一香檳。同時Alexandre亦將Domaine Jacques-Selosse裏學習到的技術和理念放到釀造的過程。這些因素促使它們為國際市場受愛戴的香檳酒莊


[土壤元素]
CHARTOGNE TAILLET 他們的單一葡萄酒便來自香檳田擁有混合砂質土黏土土壤*, 如用寬口酒杯飲用,可以令香檳有足夠的空氣接觸,令酒變得更立體化! (*葡萄田以砂質土為主的酒比較優雅可口,反而黏土為主的酒較厚實與雄渾的風格。)

[著重質量大於產量]

除了SAINTE ANNE BRUT是非年份外,其他香檳酒都有列明收成年份,標誌著每年天氣帶來的變化,而這亦反映葡萄收成,他們只求質量不求產量,可見他們的執著。