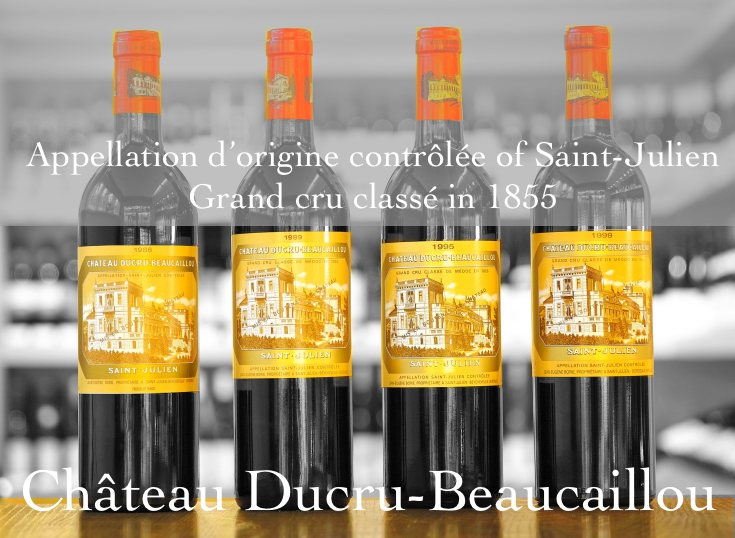 Appellation d'origine contrôlée of Saint-Julien Grand cru classé in 1855. The origins of Château Ducru-Beaucaillou lie in the 18th century, specifically 1720. It owes its name to the "beautiful large pebbles / stones" that characterise its terroir, which offers exceptional wine-making conditions that translate into the finesse and elegance of its wines.

Like the greatest of the 'grands crus classés' that stretch along the estuary from Margaux in the south to Saint-Estèphe in the north, this estate is perched on a splendid Médoc site with incomparable views over the Gironde.

It is one of the only castles in Bordeaux to be built over its cellars, and one of the few estates producing a "grand cru classé" still inhabited by its owners.

The Borie family has owned this estate for over sixty years. Xavier Borie(son of Jean-Eugène Borie) had managed Ducru Beaucaillou, Grand Puy Lacoste and Haut Batailley since 80's to early 00's. Ducru Beaucaillou established unique and strong position in the market as one of the "Super Seconds" during this period. Since 2003 vintage, Xavier Borie has inherited Grand Puy Lacoste and Haut Batailley, and Bruno Borie(younger brother of Xavier) has managed Ducru Beaucaillou. Both before and after 2003 are great, but they are in different style. Now - 2016 is the good time to look back 80's and 90's Ducru Beaucaillou. These golden era of Ducru Beaucaillou reached to the peak of maturation.