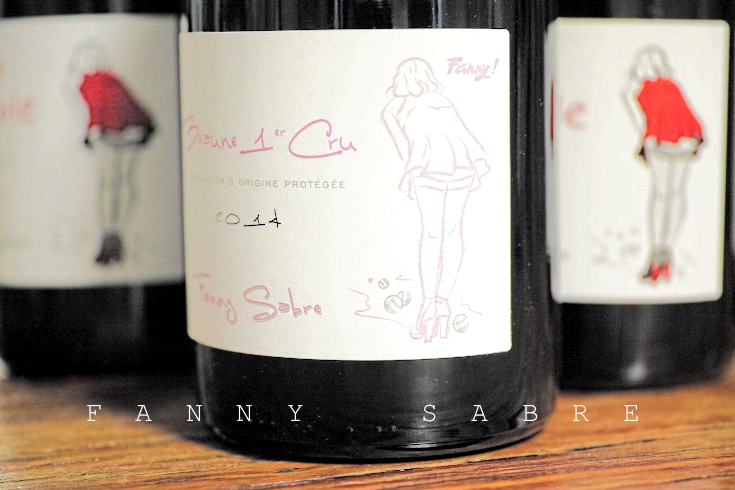 Fanny was studying law at university when her father passed away in 2000 and the Sabre family needed someone's help to make wine. Under that difficult situation, they had a good luck that Philippe Pacalet offered assistance to Domaine Sabre. Philippe Pacalet had just left Domaine Prieuré-Roch in 1999 to started his micro-negoce. Fanny didn't intend to be vigneron in the beginning, but she had been fascinated by life as a vigneron through the experience with Pacalet and finally she decided to take over her farther's domaine and activities.

The wine-making process at Domaine Sabre was just ordinary and had been very conventional as same as their neighbours. But Pacalet was different. He had used wild yeasts, without additives. As a result, the wine had gotten so much better it looked like a different wine. Fanny liked his approach.

Today, Fanny manages 4.5 ha vineyards organically and harvested manually, and produces around 15-18 kinds of cuvées. Based on Pacalet's natural wine-making, Fanny adjusted some details to fit her terroirs and ideals. Fanny thinks that Bourgogne wine should have taste of "terroir". She doesn't like "Vin Nature flavored wine" which has all same taste. She uses whole bunch(with stem) and fermentation is executed by wild yeasts. No synthetic chemicals are added, minimum or zero sulfur are used during vinification. Then wines are aged for a year, without racking or fining. Finally wines are bottled by hand using a gravity bottling system and corked manually.


5% off / 3 bottles of Fanny Sabre wine