A tiny 4.5 ha vineyard of CH.LAFLEUR is located just next to CH.PETRUS and CH.LA FLEUR PETRUS. CH.PETRUS and CH.GAZIN share same type of heavy clay soil, but LAFLEUR possesses gravel soil. Therefore, grape varietals are different and both wine have totally different character.

CH.PETRUS is made from nearly 100% Merlot, on the other hand, component of CH.LAFLEUR is 50-65% Cabernet Franc and 50-35% Merlot. The wine has significant purity and multi layers texture. Kaleidoscopic aroma, nectar-like fruits, brilliant minerals, silky tannin, every factors are well integrated since early stage, and wine has huge ageing potential. Normally CH.LAFLEUR easily can go 30 years and sometimes more than 50 years. This wine is recognized as another top of Pomerol.

Jacques Guinadeau and his family own the chateau and they focus on wine making. Distribution is strictly managed by Ets Jean-Pierre MOUEIX as same as other top Pomerol such as CH.GAZIN, CH.CERTAN DE MAY and CH.PETRUS.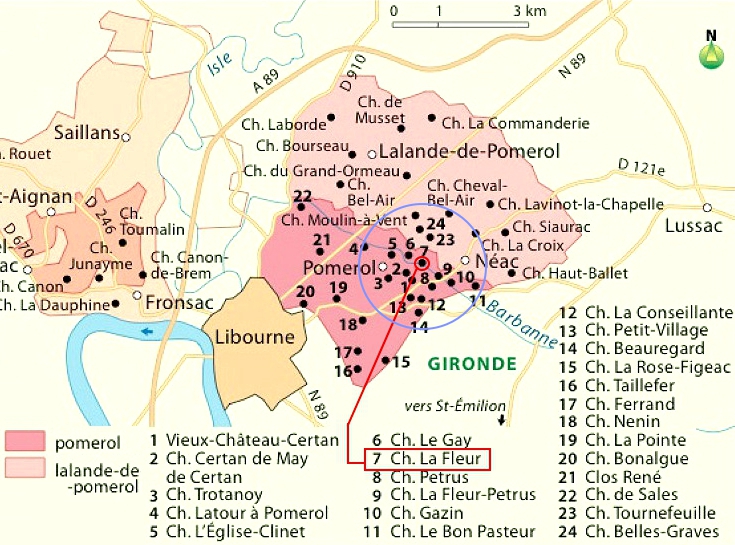 From Ets Jean-Pierre MOUEIX cellar
Ets Jean-Pierre MOUEIX(JPM) and its family is a proprietor of top Chateaux in right bank, such as HOSANNA, LA FLEUR PETRUS, TROTANOY and so on. Besides, JPM has important role as a distributor of PETRUS, LAFLEUR, GAZIN and many top chateaux in the right bank. These wines are being stored in their cellar in Libourne, the wines have same or greater value than Chateau stock.
---