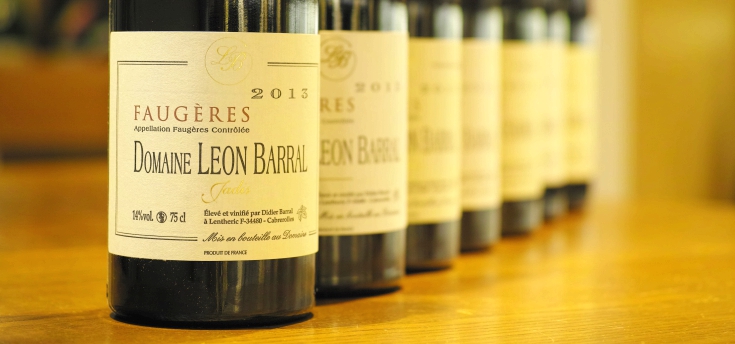 Energy, concentration and explosion.
A great natural wine classics from Languedoc.
Terroir of south France meets spirits of vigneron.
Domaine LEON BARRAL is an iconic natural wine producer in south of France. He Didier Barral created Eco-System in his land. Vineyards are surrounded by forest, and wild animals, insects, plants, microorganisms, everything works organically. Cellar works is also natural. Vinification is processed by wild yeast, and it does not require adding sulphur. As a result, the wine is highly-concentrated and it possesses amazing purity. Energy of sun and power of earth are condensed in the bottle, it explodes on the palate.
Basically these wines are power driven, but Cuvee Jadis displays unusual elegance for south France wine. Tradition is juicy, thick and big, Valiniere is decadently gorgeous.




LEON BARRAL is producing 3 red wines by different blending.
Cuvee

/

Cepage

Carignan

Grenache

Syrah

Mouvedre

Cinceault


Tradition



50%

40%

-

-


10%



Jadis



40%

10%

50%

-

-




Valiniere

-

-

20%

80%

-
---

力量,專注,爆發,
活力之源
展視出法國南部的風土與釀酒師的偉大努力
Domaine Leon Barral 是一間位於法國南部以生物動力生產葡萄酒的著名酒莊。Didier Barral待葡萄如朋友一樣,真誠可貴,尊重大自然的循環週期,讓葡萄都展現出偉大的潛力。他的成功影響了其他法國南部酒莊,正正讓他們明白到生物動力的重要性。
Leon Barral 的葡萄酒是非常有爆發力,它那陽光般強勁的威力在口感中爆發出來。儘管它看似是力量主導,然而它的Ladis卻擁有非凡的優雅感。至於它的tradition給人感覺很厚身,巨大和多汁,而Valliniere則是帶點頹的華麗呢。總括而言,Leon Barral 是法國美芝蓮餐廳最喜愛的法國南部葡萄酒之一。
以上所描述的Ladis, Tradition和Valliniere 也是以不同葡萄來混釀而成。