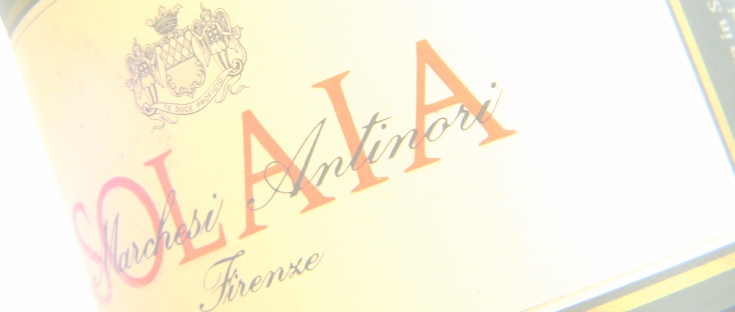 TIGNANELLO
In 1971, they were obliged to use white grapes to make Chianti. They considered that Sangiovese was not good enough to make good wine. At that time, making red wine with only Sangiovese(in fact, tiny portion of Canaiolo was blended in first TIGNANELLO ) was sensational. After that, ANTINORI discovered that Cabernet supports and bring out great potential of Sangiovese, then they decided to blend Cabernet Sauvignon and Cabernet Francs. This combination = "Sangiovese + Cabernet" became model of Super Tuscan. There are many followers today, but no one has that special atomosphere which TIGNANELLO has.
SOLAIA is "product of chance", said Mr.Piero Antinori. In 1978, they selected some part of Cabernet from TIGNANELLO, and made 20 barrels of wine(CS80% / CF20%) just for curiosity. Result was so interesting. They made 1978 and 1979 by 100% Cabernet(CS80% / CF20%) and they skip 1980 and 1981(due to lack of quality), then in 1982 they desided to add Sangiovese to SOLAIA to appeal its origin "TOSCANA". Basic blend of SOLAIA is "reverse" of TIGNANELLO.
TIGNANELLO



80% SANGIOVESE
15% CABERNET SAUVIGNON
5% CABERNET FRANCS


SOLAIA



20% SANGIOVESE
75% CABERNET SAUVIGNON
5% CABERNET FRANCS
SOLAIA is produced in good year only. In fact, ANTINORI skipped 1980, 1981, 1983, 1984, 1992 vintages.
2002 SOLAIA ANNATA DIVERSA : Due to difficult weather, they gave up Sangiovese in 2002(TIGNANELLO was not produced) and produced SOLAIA by 100% Cabernet. Particularly they named this wine "ANNATA DIVERSA", which means year of different. What is the result? Now wine is well matured and so beautiful.
---

TIGNANELLO
在1971年,當時人們都用白葡萄來釀製基安蒂酒,因為他們認為桑嬌維塞不足以釀製出好的葡萄酒。在那時候,光用100%桑嬌維塞來釀製紅酒是一件聳人聽聞的事。(事實上,有小部分Canaiolo混合釀製了首批Tignanello) 在那之後,ANTINORI(安蒂諾里)發現了赤霞珠可以引發出桑嬌維塞的潛力,因此他們決定以赤霞珠和品麗珠來和桑嬌維塞一起釀製. 這個完美組合=桑嬌維塞+赤霞珠創造出超級托斯卡。 今時今日,這組合還有很多追隨者,卻沒有一個可以模彷出Tignanello(天娜)的獨特氣質。
Mr. Antinori Piero曾經說過SOLAIA (安蒂諾里)是"機會主義者"。在1978年, 人們出於好奇心便把一些Tignanello的Cabernet混釀成20桶酒, 提子比例為80% Cabernet Sauvignon 和20% Cabernet France 。結果卻是出人意表好。他們在1978年和1979年也是依這比例來釀製, 但到了1980年和1981年因缺乏質量而跳過了。然後到了1982年, 他們為了迎合它的起源TOSCANA, 便決定加入Sangiovese。結果便融合出"反向"的Tignanello。
SOLAIA是在好年份才會生產。事實上, ANTIORI跳過了1980,1981,1983,1984和1992的釀酒年份。
2012 SOLAIA ANNATA DIVERSA:

基於惡劣的天氣, 人們在2002年放棄了用Sangiovese (那年是沒有生產Tignaello), 他們選擇用100% Cabernet來生產SOLAIA, 並把它命名為"ANNATA DIVERSA" – 意思是"非一般的年份" 。結果便創造出這款成熟美麗的酒。