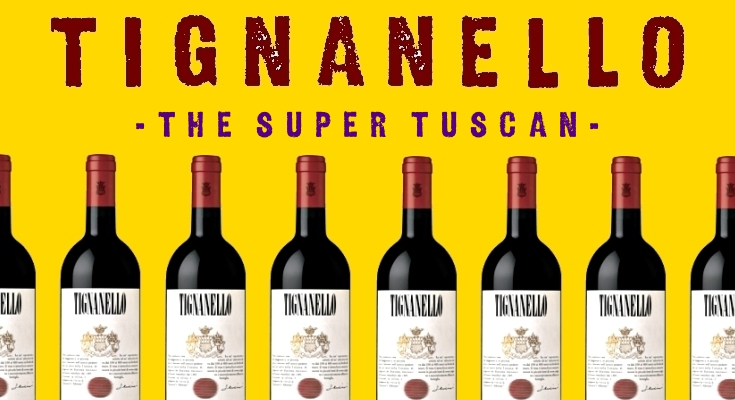 In 1971, they were obliged to use white grapes to make Chianti. They considered that Sangiovese was not good enough to make good wine. At that time, making red wine with only Sangiovese(in fact, tiny portion of Canaiolo was blended in first TIGNANELLO ) was sensational. After that, ANTINORI discovered that Cabernet supports and bring out great potential of Sangiovese, then they decided to blend Cabernet Sauvignon and Cabernet Francs.

This combination = "Sangiovese + Cabernet" became model of Super Tuscan.

There are many followers today, but no one has that special atomosphere which TIGNANELLO has.
The original Super-Tuscan, Tignanello is produced exclusively from the Tignanello vineyard, a 47 hectares (116 acres) southwest-facing, calcareous rocky-marl and limestone soil plot with tufaceous elements, planted between 1,150 and 1,312 feet above-sea level at Antinori's Tignanello Estate. It was the first Sangiovese to be aged in small oak barrels, the first red wine in modern times to use a non-traditional grape variety, Cabernet, in the blend, and among the first red wines made in Chianti with no white grapes. In all three instances, it set the example for a new breed of exceptional top-of-the-line Italian wine.
Tignanello, originally a Chianti Classico Riserva labeled Vigneto Tignanello, was first vinified as a single vineyard wine in the 1970 vintage, when it contained 20% Canaiolo and 5% Trebbiano and Malvasia, and was aged in small oak cooperage. With the 1971 vintage the wine became a Vino da Tavola della Toscana and was named Tignanello after the vineyard from which it originates. Beginning with this vintage, Tignanello stopped adhering to the rules laid down by Chianti Classico Disciplinare, and with the 1975 vintage, white grapes were totally eliminated. Since the 1982 vintage, the blend has been 80% Sangiovese, 15% Cabernet Sauvignon and 5% Cabernet Franc.

Tignanello was not produced in the 1972, 1973, 1974, 1976, 1984, 1992 and 2002 vintages.
---
在1971年,當時人們都用白葡萄來釀製基安蒂酒,因為他們認為桑嬌維塞不足以釀製出好的葡萄酒。在那時候,光用100%桑嬌維塞來釀製紅酒是一件聳人聽聞的事。(事實上,有小部分Canaiolo混合釀製了首批Tignanello) 在那之後,ANTINORI(安蒂諾里)發現了赤霞珠可以引發出桑嬌維塞的潛力,因此他們決定以赤霞珠和品麗珠來和桑嬌維塞一起釀製.

這個完美組合=桑嬌維塞+赤霞珠創造出超級托斯卡。

今時今日,這組合還有很多追隨者,卻沒有一個可以模彷出Tignanello(天娜)的獨特氣質。
作為超級托斯卡的原產地,天娜葡萄園是獨家生產天娜的地方,它擁有47公頃(116英畝), 面向西南, 土壤蘊藏了石灰質的泥灰岩和凝灰質的石灰石, 在海拔1150至1312英尺上的ANTINORI Tignanello酒莊上種植。它們是第一批桑嬌維塞在小橡木桶中蘊釀, 亦是它們近代首批使用非傳統葡萄來釀製的紅酒。另一方面, 赤霞珠是第一批用來混釀基安蒂酒的紅葡萄, 因此造就了第一批非白葡萄釀製的基安蒂酒. 在這三個情況下, 它樹立了榜樣, 成功地誕生了一種非凡的頂級意大利酒。
Tignanello(天娜), 原本是在基安蒂酒的Classico Riserva中被標記為Vigneto x Tignanello, 在1970年第一次被視為單一葡萄園釀製的葡萄酒。它包含了20%的Canaiolo和5%的特雷比亞諾和馬爾瓦西亞, 在小橡木桶中釀製。隨著1971年開始, 它的酒成為Vino da Tavola della Toscana (維諾。.塔沃拉德拉托斯卡納) 並被命名為Tignanello, 由這個時候開始, 天娜停止追隨Classico Riserva所訂立的條款。到1975年的時候, 白葡萄已被完全取締。由1982年開始, 它的葡萄酒是由80% Sangiovese+15% Cabernet Sauvignon+5% Cabernet Franc釀製。

Tignanello是沒有1972, 1973, 1974, 1976, 1984, 1992和2002年份的葡萄酒。