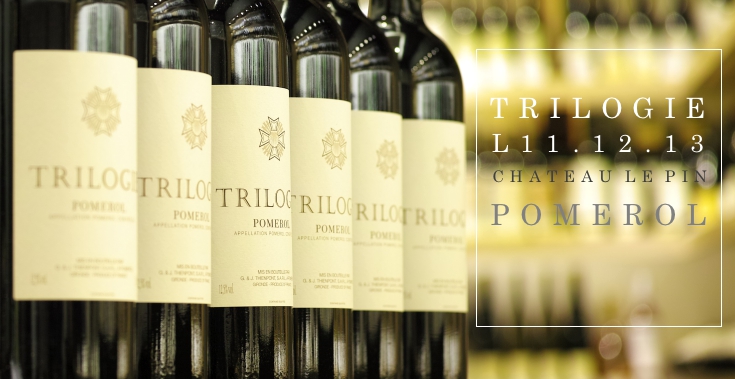 TRILOGIE - CH.LE PIN L11.12.13 - This is a blend of three vintages of Cabernet Franc and Merlot from CH.LE PIN (unlike CH.LE PIN which is made from 100% Merlot). This cuvee could be assumed as second label, but rather "special cuvee which is based on different concept" is suitable for this wine.

The first TRILOGIE was produced in 90's and it was for their own consumption. The second TRILOGIE was blend of 2003 & 2004 followed by 2005 & 2006, 2007 & 2008 and 2009 & 2010(actually those TRILOGIE were not "TRILOGIE", because those were blend of two vintages). The newest TRILOGIE is real TRILOGIE which is blend of three vintages. Production of CH.LE PIN is around 500 cases / year. So you can imagine how small the production of TRILOGIE is.

Vintage blend is popular in Champagne, but we seldom see this style in high-end red wines. TRILOGIE is the one of three top vintage-blend red wines in the world. The other two are Vega Sicilia Reserva Especial Unico and ZD Abacus.