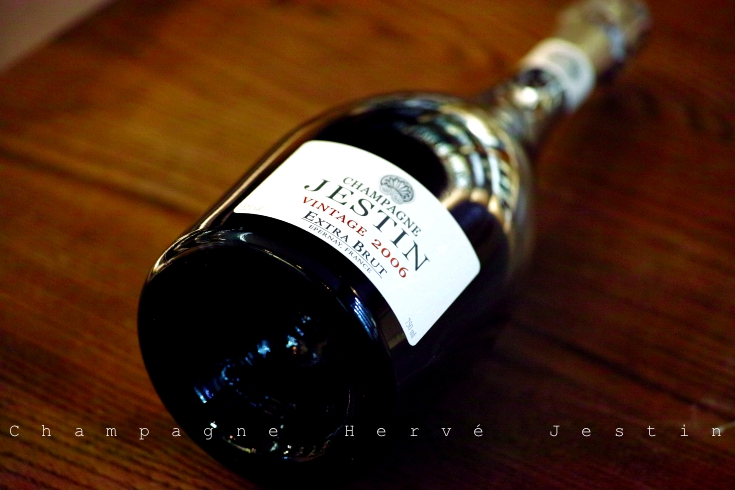 Apparently Champagne will be most prominent region which dramatically improve its quality for the next ten years. Revolution has already started since mid 00's and many Champagnes which are under the influence of Hervé Jestin fascinate serious wine connoisseurs today.
Recently crucial and monumental cuvée called "Champagne Jestin" has been released. This is a great achievement of Hervé Jestin's wine-making, the starting point to the further revolution and passing point at the same time. To know this Champagne is to review past ten years and to declare to be a witness of Champagne New Era for next ten years.
"Earth has changed very fast since 2006 and with her the way to drive the winemaking is different. Although it is difficult to explain generally, apparently it is much easier for Asian to understand my approach.
My idea is that every vintage is a sort of mirror of the human being changing
"
(by Hervé Jestin)
How to appreciate
This Champagne is a gastronomic Champagne rather than an aperitif Champagne.

It is also a "philosophical Champagne" to be tasted in a very quiet space with a positive mind. It brings to the consumers a sort of peace. To me the idea is to taste, feeling the emotion brought by the wine.

The better temperature is 13 to 14 °C. It is important to avoid ice bucket. It is too violent. The Champagne needs several minutes (15 minutes even more) to open. And you have to care not shock the glass after the filling.

It is also interesting to taste standing in the different orientation (North, South, East and West) specially in the west direction (Champagne direction).

If you have the possibility to taste the Champagne during a fruit or flower day, it is better.

(by Hervé Jestin)
---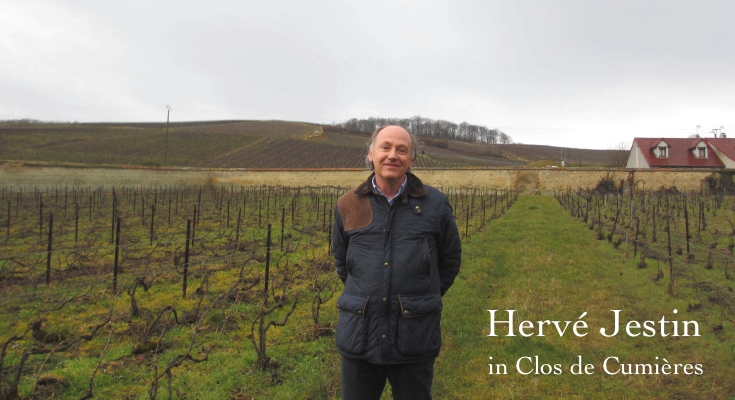 More information
Hervé Jestin
said that he is making wine for pleasure, and he doesn't wish to see that his wine is being decorated by complicated words. All the important messages are in his bottle and drinkers just need to feel it simply.

The explanation hereunder is just for reference for the connoisseurs or professionals who wants to know more about his wine. And we can provide more details if you wish. Please contact us with your question
by e-mail
.
About this cuvée


Grapes are from the fellows of Hervé Jestin,
Vincent Laval(Cumières, PN&PM, Biologic)
and
David Leclappart(Trépail, CH, Biodynamie)
. The wine was vinified in the cellar of
Marguet
. This is the first ever certified organic prestige Champagne blended from across the region. Hervé Jestin had already created prototype of this
cuvée called "Authentis Series" at Duval-Leroy while he had been a wine-maker of Duval-Leroy. He worked for Duval-Leroy for 23 years since 1982. And then, in 2005, he became independent as a consultant to share knowledge and experience with producers (
such as
Vouette et Sorbee
,
Marguet
, Fleury etc
) who has strong intention for improvement.
Big maisons are also being influenced by
Hervé Jestin today. Louis Roederers hired
Hervé Jestin(until 3 years ago), Moet et Chandon, Taittinger, Laurent Perrier and some other big houses started to study about biodynamie and Feng-Shui based on scientific recognition.
2006 Vintage
Production : 2,610 bottles. D
é
gorgement : September 2013. Dosage : 0g / litre


Biodynamie and
Hervé Jestin

All of
Hervé Jestin's
theory and practice
are based on Biodynamie. Generally "Biodynamie" is considered as the matter in the vineyards and it is separated from wine-making in the cellar. In fact, most of Biodynamique producers(or Vin Nature producers) are trying to minimize the operation in the cellar. They are thinking that less intervention is better. However
Hervé Jestin says his Biodynamique approach keeps on running in the cellar. He widely and deeply applies concept of Biodynamie to operation in the cellar. As a result, he has successfully maintained(rather enhanced) "energy and vibration" of biodynamic grapes to the wine, and transferred them into the bottle without any loss. Please remember the sense of Feng-Shui. Biodynamie and Feng-Shui has lots of similarities and it is telling same thing by different language. Practically
Hervé Jestin's method includes these approaches.