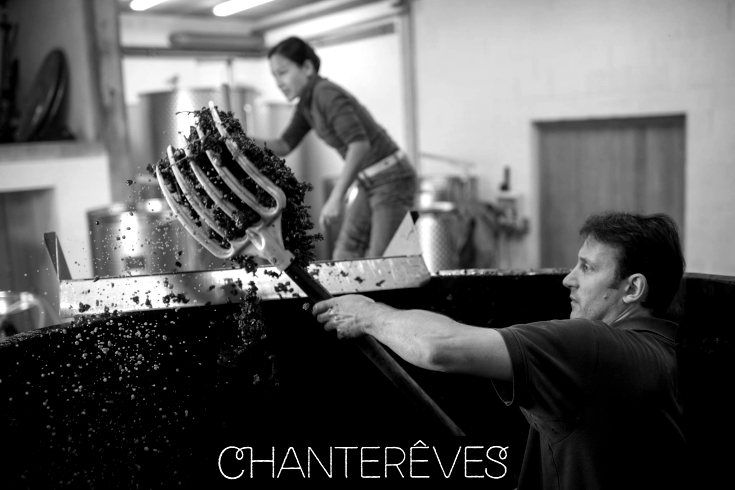 Tomoko Kuriyama and Guillaume Bott, the maison de vin "Chanterêves", this micro-négoce has already released 8 vintages(2010-2017) and had established a firm position. Today, older vintages such as '10, '11, '12, '13 have prove ability of their wine to age and authenticity, and newer vintages '14 and '15 indicate synchronization of their direction and natural wine movement much clearer. And latest '16 and '17 gained much more purity and accuracy.

They work with growers closely to obtain ideal grapes(they also work in vineyards), and using biologically farmed grapes preferentially. Wine-making has carried out naturally as much as possible under non-interventional manner. Fermented by indigenous yeasts, new barrels are not used for white wine at all. There is no gimmick or makeup. This natural wines are supported by high quality of grapes and their artisanal spirit with sophisticated skills.

Vinification - Vin Blanc

(by Chanterêves)

We press the whole cluster grapes with light or none SO2 addition to the must. Fermentation and 12 months aging in 228ℓ to 600ℓ oak barrels. We carefully examine each appellation/terroir and choose the barrel size for each that « we feel right ». Hardly any new barrels are used for allowing each terroir and its minerality for full expression. We work with indegenous yeasts and the malolactic fermentation is also done naturally.

There is no temperature control in the cellar and usually the malolactic fermentation finishes early spring of the following year. One big batônage in the following July-August and directly thereafter all the barrels are assembled in a stainless steel tank for a furtther aging on the lies. No fining and occasionally one light filtration of half of the tank. Bottles January to February after 2 winters in the cellar.



Vinification - Vin Rouge

(by Chanterêves)

All of our reds are vinified, without compromise, with 100% whole cluster grapes. We feel that when the grapes are treated with whole cluster the energy of the fruit is most naturally transformed into wine. Because our passion is to both explore and express the voice of each climat (vineyard) without compromising its energy, we believe the whole cluster fermentation with minimal sulphur use (10 to 15 ppm) is the best tool to realize this. We prepare a wild yeast starter using the grapes of each climat 2 to 3 days before the harvest.

Once picked the grapes are brought into a traditional fermenting wooden vats together with the starter and the fermentation starts immediately. There is no temperature control during the skincontact time or the « cuvaison ». There is also no mechanical pump-overs or « remontage » as we like to avoid pumping in general as much as possible. We wait for « pigeage » or punch downs (only with feet) until the end of cuvaison. It will be done once a day but there will be many un-crushed clusters when we press off.

The fermentation will be finished either in a tank or sometimes in the barrels. The malolactic fermentation, as the sulphur dose is minimum or none, happens naturally during the cuvaison or after the press in the barrels. Our wines without exception are aged in used oak barrels. There is hardly any new oak used. The wines will rest in oak barrels until just before the harvest of the following year and then assembled in stainless steel tanks. The wines in total spend 2 winters in the cellar before bottling.


2014 and 2015
(by Steen Öhman / WINEHOG)



The 2014 vintage marked an interesting change of vinification of the reds, as 100% whole cluster grapes are used for the reds in this vintage and the level of SO2 has also been reduced significantly.





The result was some beautiful expressive and "organic" wines moving style-wise in the direction of both

Frederic Cossard

and Pacalet … i.e. the combination of low SO2 and a very high percentage of whole cluster.





The 2015s are also made with 100% whole cluster grapes and with a modest level of SO2. The result is however quite a contrast to the transparent and lightfooted 2014s, as the 2015 vintage has yielded very ripe grapes – that provides more weight and intensity to the wines. The balance, freshness and transparency is however intact … the beauty of 2015 when they are at their best.





This is the beauty of Burgundy .. the vintages can be quite different, and changes the expression of the wines from year to year. While some prefer the delicate and very classic style of the 2014s, others will welcome the extra concentration of the 2015s. I just enjoy the variations and am happy to notice that the basic qualities of the Chantereves wines – purity, focus and detail are intact even in a rich and generous vintage like 2015.





For the whites there is little change vinification wise … the 2015 vintage is rich and more weighty and is style-wise quite different from the delicate 2014s.




栗山朋子さんからのメッセージ(原文) 2014年7月

飲み心地が良いだけでなく、亜硫酸に過度に頼ることなく安定して長く楽しめるワインが作れたら何よりと思っています。葡萄を作っているヴィニュロンが腕が立つ人であるのは確かで、彼の仕事に報いるクオリティーのワインに仕上げるのが抱負なので、それが少しでも実現しているなら本望です。





白(シャルドネ100%)はすべて228ℓ容量の小樽で野生酵母で発酵させています。発酵が比較的速めに、理想的には3週間から4週間で終わるように、発酵終盤はカーヴを18度ほどに温めています。マロラクティック発酵も自然任せです。酵素を含む清澄剤はいっさい使用していません。瓶詰め3週間前に粗めに軽く一回濾過しています。若いうちはカチっとしており、年を経て花開いていくような白が好きなので、バトナージュはよほど若いワインが痩せていないかぎり行いません。ピュアなワインが好きなので、今までのところ白には新樽はいっさい使っていません。10年から3年ほど経た樽をシャサーニュの友人から買い取って、洗浄と滅菌消毒をして使っています。

ブルゴーニュ・ルージュとブランの樽熟成期間は10ヶ月ほどで、翌年の収穫期直前に澱引きをしてステンレスタンクに移し、現在まではどのミレジムもクリスマス直前に瓶詰めしています。2011の村名ムルソーは長く閉じていたので、2012年11月に澱引きしました。

赤ワインは古い木製の開放式発酵桶で、やはり自然発酵で仕込んでいます。2012年より醸し中のルモンタージュまたはポンプの使用は一切無しで、発酵最終盤に数回ピジャージュしています。アルコール発酵後はすべて小樽熟成ですが、村名については20%ほど新樽を使い、ジェネリックには新樽は使用しません。マロラクティック発酵も自然任せです。赤については白と同じように清澄剤は使用せず、濾過も行いません。

特に赤ワインについては亜硫酸使用のタイミングを遅らせ、総量も減らしていく努力をしています。そうすることで得られるワインの純粋さ、テロワールのより素直な表現があると感じています。もちろん、フェノレや酸化、バクテリア汚染などのアクシデントを排除する環境下で醸造しています。今年(2014年)より、赤においては、全房発酵を積極的に取り入れて、より重層的でストラクチュアのあるワインを造りたいと考えています。

ただひとつ残念なのは、私たちは原則として原料を買い取って仕込みますが、2011年と2012年のブルゴーニュ・ルージュは葡萄供給農家が見つからず、このふたつのヴィンテージに限っては友人の蔵からアルコール発酵が完了したばかりのワインの状態で購入しました。彼はコンクリートタンクで仕込んでいます。1日2回のピジャージュに2週間強のキュヴェゾンと、伝統的な仕込みです。2013年はやっと彼から葡萄のとして安定供給してもらえるようになり、オートコート・ルージュを格下げして仕込みはじめました。





熟成能力については、同じ畑のものを数年造り続けていないので経験値がないのですが、2011のブランは還元に傾くように造ったのであと5年はフレッシュ感が保てるのではないでしょうか。2012のブランは、今までで一番の出来だと思います。2010年的な果実味と2011年のマティエールを併せ持ったブランで、気に入っています。ヴィニュロンが若手で、2013年以降も彼から安定供給を望めるので助かります。7年から8年、もしくはそれ以上もつかもしれません。2011のムルソーもやはり還元的に造っているので、10から15年は勢いを保つのではないでしょうか。2011のルージュも、今現在は果実のフレッシュ感がありますが、10年ほどで枯れてくるのではと思っています。

合わせる食事については、自宅では良質の食材をシンプルに調理した料理に合わせるのが好みです。ルージュについてはグリルして塩コショウをふったコート・ド・ブッフ、またはグリルしたラム。ブランはグリエしたスズキや鯛に塩をふりオリーブオイルをかけたもの。村名ムルソーは、オマールや海老などのグリエに合うと思います。ムルソーにかぎっては、良質のバターを焦がし気味にしたブール・ノワゼットを甲殻類にソースとしてかけても合います。5年ぐらい熟成した白には、フロマージュも幅広く合わせられます。