BourgogneLive
Domaine Marc Roy is a small familial estate of about 4 ha of vineyards located in
Gevrey-Chambertin
, (
Burgundy
). The estate is in the family since four generations, represented now by Alexandrine Roy, Marc's daughter. All the work is made only by the family.
They craft distinctive wines in the style of mixture of classicism and modernity. Production is extremely small, but wine is worth to make effort to find.
Marc Roy's
vineyards are capable to produces "Millerandage". Millerandage is a kind of mutation in particular year, and berries are small, with thick skin and without seeds. The wine obtains concentration and complexity. Henri Jayer loved Millerandage so much, and it was one of the secret of his wine. Alexandrine Roy purifies Henri Jayer's dream, then produces 100% Millerandage wine named "Cuvee Alexandrine" which is the only one in the world.
Gevrey-Chambertin "Cuvée Alexandrine" (Pinot-Noir) :
1,200 bottles

This is a special wine which is made of 100% "Millerandage" grapes. For skilful Burgundy producers, it is very precious and preferable phenomenon. There is a famous story that Henri Jayer loved millerandage so much. Millerandage does not happen every year. So CUVEE ALEXANDRINE is produced in the year which millerandage happened.
Gevrey-Chambertin "Clos Prieur" (Pinot-Noir) :
1,500 bottles / 0.27ha

Clos Prieur is located next to 1er cru Clos Prieur and 1er Cru Cerbaudes, and it is also close to Grand cru Chapelle-Chambertin and Mazis-Chambertin. Surface is only 0.27ha. We can find many similarity with Mazis-Chambertin in terms of taste.
Gevrey-Chambertin "Vieilles Vignes" (Pinot-Noir) :
10,800 bottles

Made from 70 years old ULTRA Vieilles Vignes from the vineyards of Carougeot, Vignes Belles, La Justice, Es Murots, Les Crais, Les Seuvrees and Jouise. This wine has great aging potential and typical character of Gevrey-Chambertin.
Gevrey-Chambertin "La Justice" (Pinot-Noir) :
1ha

Alexandrine and her father Marc obtained small vineyard(1ha) of LA JUSTICE in 2010 and 2011 is the first vintage for them. 70 years old vines, and this vineyard is able to produce Millerandage grapes.
Marsannay "Les Champs Perdrix" (Chardonnay) :
1,600 bottles / 0.5ha

Extremely low yield(24-30 hl/ha) produces great concentration and rich taste. Aroma of peach, mango and passion fruits are remarkable.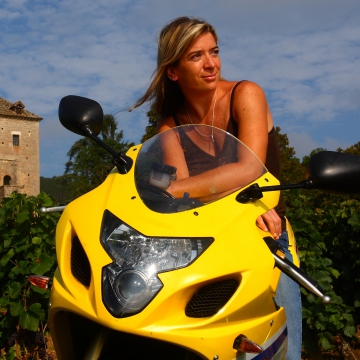 Japanese the best wine magazine "Winart N.78" features
Marc ROY in the middle of cover page.

"12 names to watch"
"Rising stars in Bourgogne 2015"


- Score for 2013 vintage -

Cuvee Alexandrine
93 points
Clos Prieur
92 points
La Justice
92 points
Vieilles Vignes
90 points