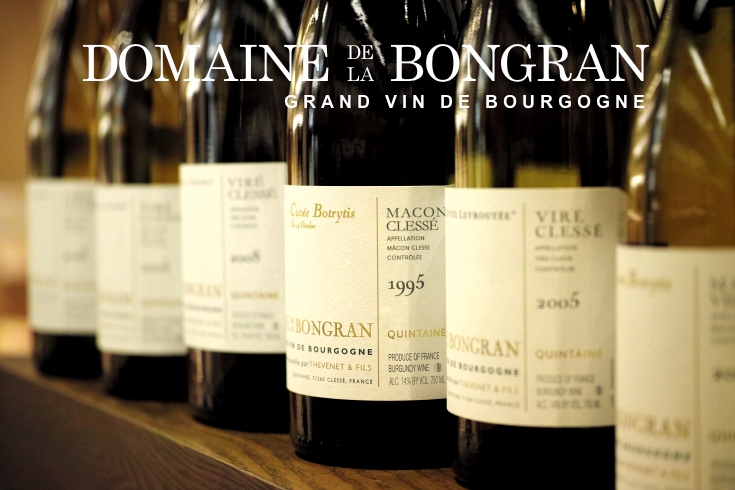 勃艮第貴腐葡萄酒 BOTRYTIS - Tradition in Mâconnais
Jean Thévenet-Domaine de la Bongran says that wines in Mâconnais are very rich and contain botrytis, this must be a tradition in this region since a long time ago. Especially Thévenet's Cuvée Botrytis is ultimate Burgundy Chardonnay wine which is made from 100% botrytis(noble rot grapes). However, today we seldom see Burgundy wines with botrytis. Only a few producers, such as Bongran and Guillemot-Michel maintain this tradition.

Domaine de la Bongran的莊主Jean Thévenet 講解馬孔內的酒, 他表示自從古以來此酒的口感都非常豐厚及帶有貴族黴。 可惜現今我們不常見到貴腐葡萄酒,只有少數的生產者會維持生產製作。



Totally Natural



Organic farming and non-intervention inemaking have been maintained since several decades. Jean Thévenet and his son Gautier against the use of herbicides and pesticides. Standard yields are 80-90hl/ha in this region but Bongran keeps low yields like 30-35hl/ha for dry wine. Grapes are picked as late as possible and far later than is usual.

Alcoholic fermentation goes on 6 to 24 months with low temperature(10°C-18°C), and then moved to malolactic fermentation for 3 to 4 months, and 6 to 12 months in stainless tank for ageing. Jean Thévenet never add yeast, never use oak barrel, never do racking, never do filtretion. Therefore wine is totally natural and express terroir straightly.

有機農業和不干預的釀酒方式已經維持多個世紀,Jean Thévenet的釀酒方式都從不添加酵母, 不使用橡木桶,無刻意壓榨,無過濾,這種酒確是純天然的釀造。


成熟的年份
Released when wines mature enough
Wines are released when it reaches to the best condition. It takes at least 3 years ageing, sometimes more than 10 years. As a result, wines of Bongran appear in the market irregularly and it is totally out of the market cycle.


No doubt Jean and Gautier
Thévenet is
finest yet most authentic producer in Mâconnais region. They are member of "
les Artisans Vignerons de Bourgogne du Sud" and
Jean Thévenet is the chairman of Sapros (the Botrytis wine club).
[Viré Clessé

Terrior

獨特風土環境]





受到入秋後的日夜溫差影響,Domaine de la Bongran 毗鄰的Saône河會出現霧氣,這正提供很好的生長環境令貴腐菌在Chardonnay葡萄上形成

。

Occurred by the mists from the Saône river during autumn provides the perfect conditions for Botrytis. As a result, the wine of Domaine de la Bongran has acquire the best presentation of Thévenet family values and the unique terrior of Mâconnais.



[Cuvée Levroutée]





Jean Thévenet 延長葡萄採收,選擇成熟的葡萄和釀造傳統*

Levroutée

風格,製作以甜熟、豐厚、圓潤口味主導的白酒,這令Mâconnais區珍貴的傳統得以保存。(*

Levroutée

源自本地方言,意思指剛染上貴腐菌的葡萄)



Levroute is local dialect for grapes in the first stages of noble rot, a vert traditional yet almost forgotten way of white wine making method in Mâconnais.



[

Ex-domaine stock -

直接從酒莊進口]





Domaine de la Bongran 從不急於把酒推出,他們慣常會多等一段時間,給予充分的時間發酵,安靜地讓白酒成熟。 今次PILLARIWINE 很有幸地獲得酒莊直接提供的一些舊年份白酒

。



Not until Thévenet family believes they are ready, the wines are never released. Given the long care taking and maturation times, the latest vintages available from Domaine de la Bongran is likely to be several years older than other domaines.

PILLARIWINE is very lucky to receive the library released stock, thus conditions are perfect and fresh.

---

[Mâconnais

]



The Mâconnais is perhaps the birthplace of the Chardonnay grape. These low rolling hills are underpinned with Jurassic Limestone and support a wide range of mixed agriculture as well as vines. You'll see woods, cherry orchards and soft fruit, market gardens, goats and the ubiquitous white Charolais cattle chewing quietly in river meadows.

The vineyards grow Gamay and Pinot Noir for reds, but today Chardonnay is predominant. Sadly the Mâconnais has long been the least ambitious part of Burgundy, dominated by the huge co-ops founded in the 1920's making over-cropped and frequently ordinary wines. As a result, the image of Mâconnais is poor, with perhaps only the higher quality appellations based around the twin escarpments of Vergisson and Solutré (such as Pouilly-Fuissé) having a better reputation.

However, thanks to luminaries like Jean Thévenet, the best producers of the Mâconnais are now making wines to rival the great whites of the Cote de Beaune farther north. But this is a quiet revolution and there is still great value to be found.

At this individual producer level the Mâconnais is now one of the most exciting places in Burgundy, achieving the classic potential of Chardonnay on Limestone with stunning terroir-driven wines. There are illustrious Cote d'Or estates like Lafon and Leflaive seeking new horizons in this area where land prices are much cheaper. Others have settled in the region, like Olivier Merlin from Charolais or Jean-Marie Guffens from Belgium. Some are ambitious locals not content to make ordinary wines or sell grapes to the co-op's, like the Bret Brothers, Saumaize-Michelin or Guillemot-Michel. Most are organic and many go further and are Biodynamic.

There is a group of sixteen winegrowers called 'les Artisans Vignerons de Bourgogne du Sud'. Here's their manifesto: "Now, with the standardisation of taste, the worldwide standardisation of Chardonnay, the systematic destruction of the soil in intensive and mindless agricultural practices, we are raising a timid voice to defend our liberty to be different, to offer a real diversity of wines faithful to their terroir. We hope that others will join us in this struggle."

All owe a huge debt to Jean Thévenet, Chardonnay's master, magician and maverick. Naturally, he is a member.

(article from Wine Alchemy / Paul Howard)