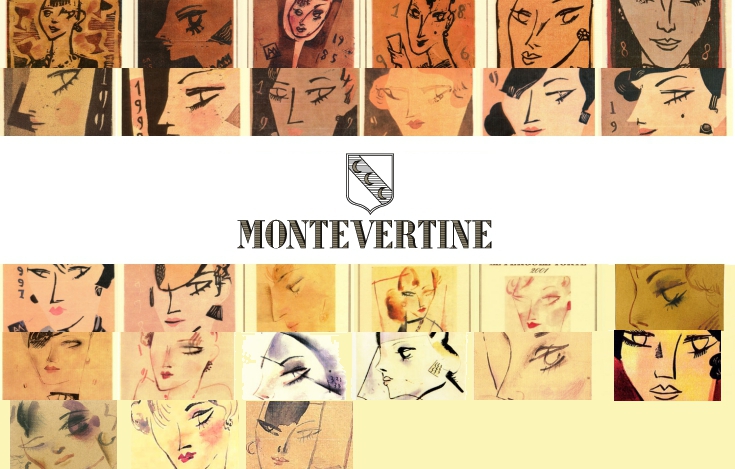 - Sangiovese 90% Canaiolo + Colorino 10%

- Aged in Slavonian oak barrels for 24 months.




LE PERGOLE TORTE


- Highly selected Sangiovese 100%

- Aged in Slavonian oak barrels for 18 months and for 6 months in Allier oak barriques.

- Produced in good year only.

- Art labels are painted by Alberto Manfredi(every vintage has different label).





Montevertine Le Pergole Torte Key Points: (by RobertParker.com)

1. 100% Sangiovese from the estate's best fruit across all of the estate's vineyards
2. Traditional vinification in cement. Aging first in French oak barrels, then cask
3. A delicate, refined expression of Sangiovese
4. Aging potential: 30+ years


Le Pergole Torte isn't a great Tuscan or Italian wine. It is simply one of the world's elite wines. Montevertine is located in Radda, one of the coolest, highest-altitude spots in Chianti Classico.

When I visited last April, the vineyards were noticeably more backward in their development relative to what I had seen in the other parts of the region.

Le Pergole Torte was a groundbreaking wine when it was first conceived by proprietor Sergio Manetti in the early 1970s. At the time, Chianti Classico regulations obligated producers to include white grapes in their wines. Manetti dreamt of something else, a wine that would explore the greatness of Sangiovese. Along with noted oenologist Giulio Gambelli, Manetti created Le Pergole Torte, one of the first 100% Sangioveses made in Chianti Classico. Because it was made outside of appellation laws, the wine carried the humblest of all designations, 'Vino da Tavola' But the wine itself was fabulous, and the public soon caught on.

In 1990 Manetti bottled a wine that would become an icon, the 1990 Riserva, which was an absurdity on paper, given the inherent contradiction of the terms 'Vino da Tavola' and 'Riserva.' To add to the irony, years later the Chianti Classico laws were updated. The obligatory use of complimentary white and red grapes was abolished, which meant Le Pergole Torte could be a Chianti Classico, but Manetti never returned to the appellation that had snubbed him. One of the misconceptions about Le Pergole Torte is that it is a single-vineyard wine. That was true of the early years up to the late 1980s. By 1990 Pergole Torte had become a selection of the estate's best fruit across several parcels, although it wasn't until 2001 that the fruit was sourced from the same basic complement of vineyards that is used today.

Sadly, Sergio Manetti passed away in 2000. Manetti's son Martino took over and adds that he is fully responsible for every wine beginning with the 2001, where he personally made all the decisions. Le Pergole Torte is vinified in cement. The wine is aged for one year in French oak barrels followed by a second year in cask. Martino Manetti isn't afraid to call them as he sees them. Manetti describes 1985 and 1997 – both heavily touted years – as overrated. For this tasting, Manetti pulled a selection of vintages from his cellar, all based on their personal significance to him.




Montevertine lies within the heart of the Chianti hills, in the community of Radda at an altitude of 425 m above sea level.
In 1967, Mr.Sergio Manetti bought Montevertine as a holiday house. He restored the house and returned it to its original dwelling destination, and right from the beginning, he planted two hectares of wine and he set up a small cellar. The idea was to produce some wine for friends and customers.
The first vintage produced, 1971, was more than decent and Sergio Manetti decided to present some bottles at Italy's leading wine show, Vinitaly in Verona, via the Chamber of Commerce of Siena. That was an immediate success and Mr. Manetti was so enthusiastic about it that only a few years later he decided to produce wine exclusively. New vineyards were planted, new cellars installed, and that activity has been continued without any interruption. The expansion of their enterprise has been going on until this very moment.
After Sergio Manetti had passed away in November 2000, the management of the vineyard is now in the hands of his son Martino Manetti, who is assisted by Bruno Bini, born in Montevertine and an in-depth expert of the zone and the soil.

Giulio Gambelli

has been their consultant since the first years of the winery. All Montevertine wines were born thanks to

his precious help and experience

. After his recent passing, his work is now brought on by the enologist Paolo Salvi, following Montevertine's winemaking tradition.