[Vins de Fruit]
Vins de Fruit are the primary expression of the varietal, prevailing over terroir.
They are blends of various terroirs leading to complex wines with distinctive rich aromas. These luscious and easy wines enable many different food matches. While they can keep, all Vins de Fruit drink delightfully in the first years to enjoy their lively character.

[Vins de Pierre]

Vins de Pierre express the distinctive features of one terroir in particular. Each wine bears the DNA of its origin and some spots happen to have a soul or some kind of energy. Quite often, these are places that were planted in vines a long time ago, back to pioneering Cistercian Monks who made today's great vineyards. There, varietal does not prevail and is used to bring the earth and sky to life. Vine roots draw the subsoil's elements with their slightest differences, then release the minerality of source rock into the grapes. Leaves grow to the sky and talk to the universe, focusing the stars' and sky's energy into the fruit. Christine Colin's labels provide us with her views of each terroir's distinctive character.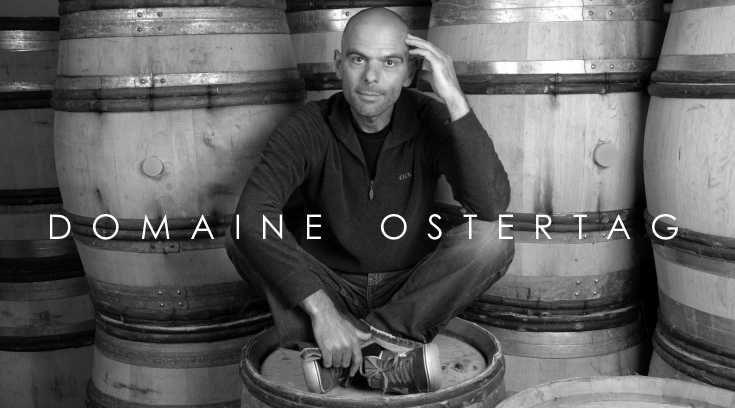 Domaine Ostertag was established in 1966 and Andre Ostertag took over the domaine in 1980 when he was 21. Andre learnt wine making in Beaune, and he met Dominique Lafon(Domaine des Comtes Lafon) in the class. Andre watched that Dominique Lafon's vineyards had changed dramatically by biodynamie. Then Andre took action immediately to convert his vineyard to biodynamie. The synergy of biodynamie, his philosophy to express the land of Alsace, and artistic sense(his partner is an artist) creates unique wines. All of the label design are created by Christine Colin. Each label express the character of each wine well.