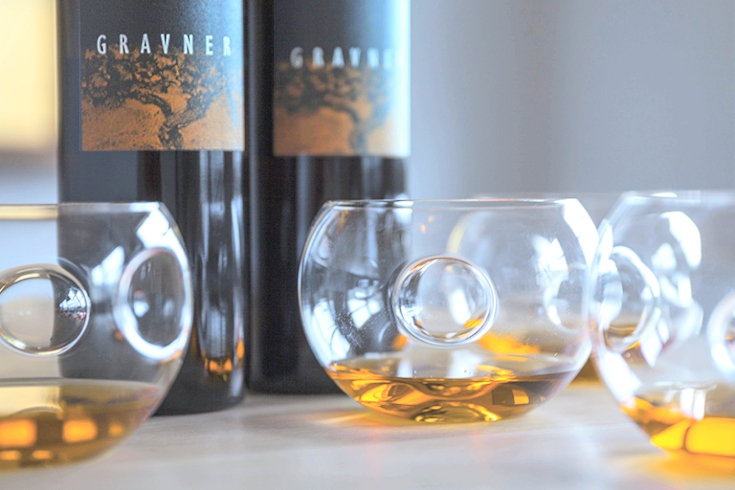 Josko Gravner is known as an innovator who drastically changed wine-making in Oslavia(in Friuli-Venezia Giulia, Northern part of Italy) and its "orange wine" movement has spread all over the world. Among all the iconic Italian natural wine producers(like Dario Princic, Paolo Vodopivec, Angiolino Maule), Gravner is deified. Gravner is also the only person who is acknowledged by Gianfranco Soldera as a great white wine producer.

His family had produced ordinary table wines and sold to others. When he took over the estate from his father, he was enthusiastic enough and began to implement many new technologies. He was one of the first producers who bought a stainless tank in this area and he produced clean and crispy wines from Chardonnay, Sauvignon, Pinot Griggio and so on. And then, he began to use barriques and tried to model after "Burgundy" with his neighbours such as Stanko Radikon. They tried changing to large wooden vats and tried maceration(skin contact) for white wine too. In the vineyards, he began to devote natural cultivation(especially Masanobu Fukuoka) and he reached to No-till farming(Nontillage cultivation)
.
On the way of quest, they encountered Georgian wine and it impressed them strongly. They desired to visit Georgia, but Georgia had belonged to Soviet Union at that time so it was not easy to visit. Soviet Union collapsed in 1991, but civil war continued in Georgia. Therefore Josko Gravner could not approach Georgia yet. And then, he could finally step into Georgia in May 2000. Georgia has a long history of wine-making since 8000 B.C., and it has been produced by Qvevri(Amphora. Large clay pot) buried underground. When Josko Gravner went back to Oslavia, he cleaned up all the equipment and buried Amphorae underground, then he produced the first "Amphorae wine" in 2001.

The white wines are made from Ribolla(as a sigle variety wine) and Chardonnay, Sauvignon, Pinot Grigio and Riesling Italico(these four are blended). While fermenting in the Georgian amphorae buried underground, it underwent a long maceration with grape skin(so called skin contact), fermented by wild yeasts under no temperature control. After the drawing off and pressing phases the wine was poured back into amphorae for at least five more months before it started ageing in large oak barrels, where it was left for six years. Wine is bottled during waning moon, without fining nor filtration.
GRAVNER Glass by Massimo Lunardon



The idea to create a wine glass in the shape of a cup occurred to me in the year 2000 during a visit to the Caucasus. While travelling in Georgia seeking amphorae that I was to bury in my wine cellar, I happened upon a monastery in the hills of Tbilisi. The monks welcomed me with a polyphonic praise of wine,which they then offered me in a simple clay cup. Savouring wine from a cup was a different experience. I now feel it is more intimate, simple, humble, and respectful of the wine than drinking from a glass with a stem. (15th, 2011 Josko Gravner)
One day, he was also impressed by glassware made by Massimo Lunardon in the restaurant, and he immediately visited Massimo's atelier. Massimo Lunardon exactly understood what Gravner wanted, and then they reached a consensus to make a special wine glass right away. This glass is provided to official agents of Gravner only.
All handmade by Massimo Lunardon, beautiful round shape and the soft, gentle touch doesn't give any effect to the wine. No distance between wine and hand, the feeling is like drinking wine by hand. No risk of breakage of stem(one of the weak part of normal wine glass) and easy to carry, so it is an ideal glass for BYO as well.