Leading the natural wine movement with his ally Nicolas Joly, Mark Angéli has been farming 7ha of vineyards and 4ha of fruits and vegetables in Anjou, Loire valley. He doesn't call his winery "domaine", and he named his land "la ferme(=farm)" instead. Also, he calls himself "paysan(=peasant)". To be as self-sufficient as possible, he has a small herd of cows for compost, meat, and milk for cheese, hens for egg and meat, and bees for honey as well.

Mark Angéli's land is managed along the biodynamic principles and its agricultural entity is structured like a small planet. It is complete with those farm animals and different crops in order to create a diverse and balanced sustainable ecosystem that can result in healthy crops and products.

Mark Angéli also works in natural manner(needless to say...) in the cellar. He uses sulfur which originates from volcanoes instead of petrochemical origins sulfur which is used by most of wineries globally. Mark Angéli and his allies could successfully reduce the volume of sulfur to less than half.

They are thinking that wine producers should indicate details of ingredients, use of other factors(such as SO2, sucrose, sorbic acid, culture yeast), organic certificate(if they have) etc. To be a sincere producer to consumers, La Ferme de la Sansonnière indicates those information on the label.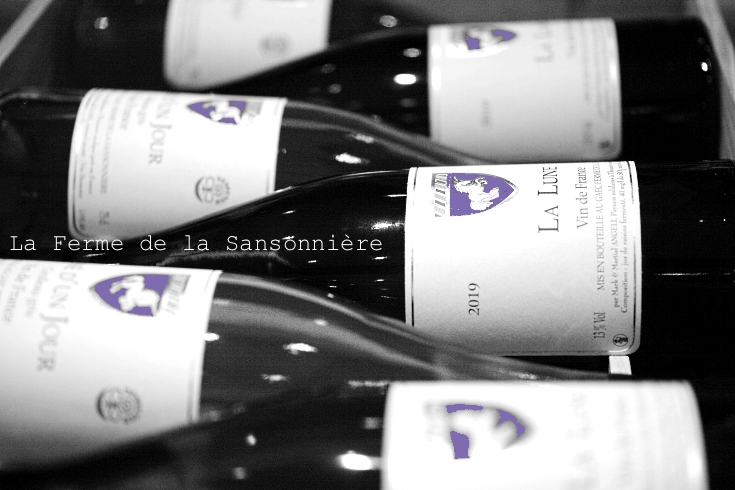 Like the majority of the quality oriented natural wine producers in Loire valley, Mark Angéli was also an outsider(originally, he is from Provence). He had finally arrived at the land of Sansonnière in 1989 almost by chance after many twists and turns. One of the reasons was the price of land. Vineyard price in this area is the most affordable in France.


Back in 1989, almost no one made quality wines in the region except for a few wineries. All the wineries have been trying to produce more volume with the use of machinery, fertilizers and agricultural chemicals since the 1960's.

An encounter with
Nicolas Joly
indicated Mark Angéli the direction to go, and he had begun to farm his land biodynamically. Today he allocates 4ha for Chenin Blanc, 2ha for Grolleau Gris and 1ha for Grolleau Noir. He stopped Cabernet Sauvignon, and Cabernet Franc has been maintained only for graftage. Biodynamic farming and extremely low yields are bringing superb concentration and purity to the wines.

La Lune is made from Chenin Blanc and spends one year ageing in barrels as a standard cuvée. La Lune has an "amphores" version too. This cuvée is aged in burried amphora for one year. Another Chenin Blanc wine is Les Fouchardes monopole. These Chenin were planted in 1970. Wines are aged for two years in barrels before bottling. The top cuvée Vieilles Vignes des Blanderies is also aged for two years in barrels and these old vines were planted in 1949. Rosé d'un Jour is made from Grolleau Gris. All wines have residual sugar, so wines are slightly sweeter than normal dry wines.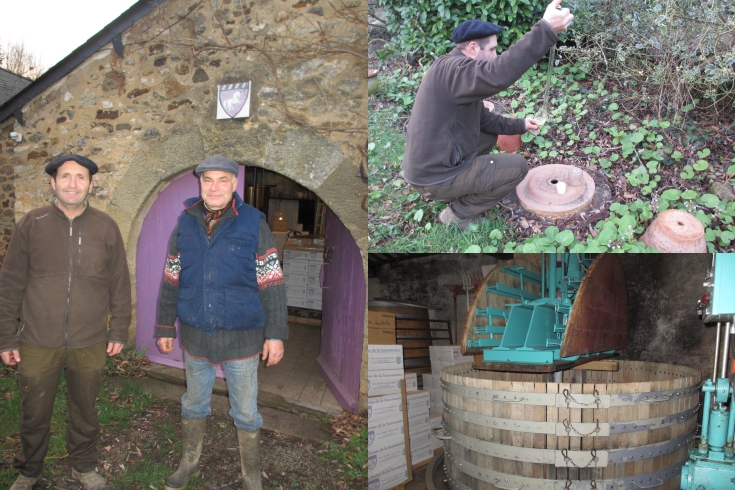 (
Bruno Ciofi worked with
Mark Angéli from 2016 to 2020)


Mark Angéli used to release his wines under the AOC classification such as Bonnezeaux and Anjou. But he has decided to demote all of his wines to "Vin de France" status to against the INAO(Institut National des Appellations d'Origine's) that reject to reduce the use of pesticides and decrease the limit of permitted grape yields.

Since the 1960s' there has been a dramatic drop in quality in the region, much of this being caused by the AOC authorities who then authorized only certain clones and rootstocks selected for higher yields and instant profit, and the promotion of use of fertilizers, pesticides and herbicides by the government. Nicolas Joly and Mark Angéli have resisted to this corruption and made a lot of effort for enlightenment.

Their movement has spread globally and a number of natural wine producers who follow their path multiply year by year. However, moreover this movement is being accelerated from the consumer side too, and supplies are not enough to fulfill the strong demand today.

Artisan growers like Mark Angéli normally work on small vineyards, which is less than 10ha and all the work is done by family or a few workers. Their aim is not volume but only quality, so we cannot expect more supply from one winery.

Mark Angéli knows that the only solution is to increase the number of producers who have the same spirits. That's why Mark Angéli and other same-minded wine producers do a lot to encourage young newcomers to settle down in the area and start winemaking from scratch.

In spite of such a high demand for high quality natural wines in recent years, Malk Angéli and his comrades try to keep bottle prices at levels that allow them to live correctly without being rich.

They are also wine drinkers and they want to enjoy the wines they make, and this at prices that are affordable. That's why most of them tend to keep their prices at reach for most wine lovers. This farmer's life is also a cultural thing for them, not a way of making big money, and they like their life very much.