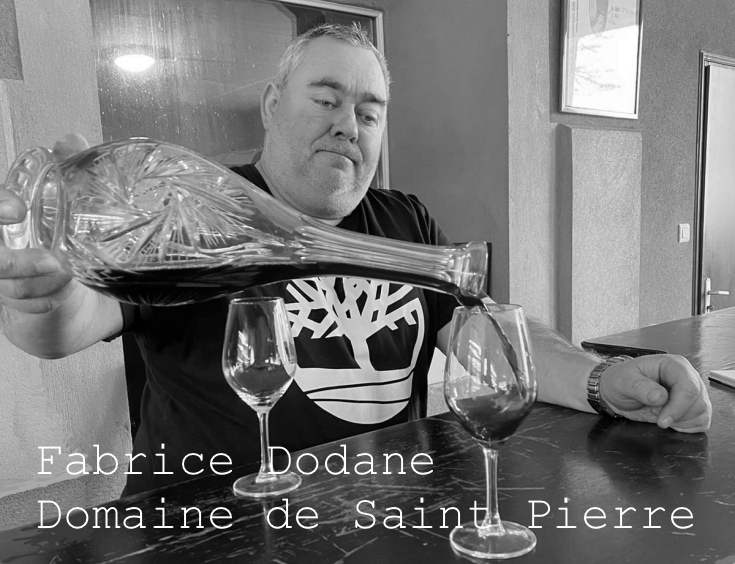 Fabrice Dodane had worked at the Domaine de Saint Pierre as a wine-maker, and then he took over the estate in 2011 due to the untimely death of the owner. The vineyards had begun the organic transition process in 2002 and were certified by Ecocert in 2008. Today, he cultivates 7.5ha in Arbois and Côtes du Jura appellations. On top of these healthy vineyard's condition, he has drastically improved wine-making especially by eliminating the use of sulfur except when absolutely necessary. All wines are fermented by indigenous yeasts in either stainless steel tanks(red) or 400-600L oak puncheons(white). Whites are aged in either the traditional sous voile (oxidative) or ouillé (topped-off or Burgundian) methods.

In recent years, due to lesser crops in Jura caused by spring frosts, Dodane has expanded his horizons to include purchasing grapes from friends farming to his exacting standards both in the Jura and from other regions. Le Dos d'Chat is a series of "Glou Glou" wines made by purchased grapes, that show a deft hand with good sense of wine-making. They are mostly vinified using whole clusters and an absolute minimal use of sulfur during the wine-making process. Fabrice Dodane is a true passionate and skilled vigneron, always seeking for new ideas to lift up his wines to the next level.
[Jura Wine]

Jura wine, is French wine produced in the Jura département. Located between Burgundy and Switzerland, this cool climate wine region produces wines with some similarity to Burgundy and Swiss wine. Jura wines are distinctive and unusual wines, the most famous being vin jaune, which is made by a similar process to Sherry, developing under a flor-like strain of yeast. This is made from the local Savagnin grape variety. Other grape varieties include Poulsard, Trousseau, and Chardonnay. Other wine styles found in Jura includes a vin de paille made from Chardonnay, Poulsard and Savagnin, a sparkling Crémant du Jura made from slightly unripe Chardonnay grapes, and a vin de liqueur known as Macvin du Jura made by adding marc to halt fermentation.

[What is Vin Jaune?]

Vin jaune (French for "yellow wine") is a special and characteristic type of white wine made in the Jura region in eastern France. It is similar to dry fino Sherry and gets its character from being matured in a barrel under a film of yeast, known as the voile, on the wine's surface. Vin jaune shares many similarities with Sherry, including some aromas, but unlike Sherry, it is not a fortified wine. The wine is made from the Savagnin grape.

Vin jaune is made from late harvest Savagnin grapes, a white variety in the Traminer family which is less aromatic than the better-known Gewürztraminer. The grapes are usually harvested in late October when the sugars have developed enough to have a potential alcohol level of 13–15% for the finished wine. The grapes are fermented slowly and then kept in small old oak casks that hold 228 liters (60 gallons). The casks are not topped up, as they are with most wines, so an air gap appears above the wine due to evaporation. A film of yeast grows over the wine, protecting it partially (but not totally) from oxidation. In Jura, this film is called the voile (veil), but it is similar to the more familiar "flor" in Sherry production. The voile yeast has many similar properties to "flor" but thrives better in a lower alcohol environment and develops less heavily and thickly than "flor" does.

The voile typically takes two to three years to develop fully. During this time the wine is exposed to slight levels of oxidation that provoke chemical changes that produce ethanal (as well as ethanol, standard alcohol) and the aroma compound of sotolon. These compounds contribute to the unique flavours and aromas associated with vin jaune. Winemakers must carefully observe the wine throughout the ageing process as there is a risk of it developing the wine fault of volatile acidity.

The wine acquires its characteristic yellow colour and nutty flavours as it ages for the requisite time of six years and three months, the time that must elapse between harvest and bottling, although at certain points during this time the wine is not necessarily in the cask. After the allotted time, only about 62% of the original wine remains. The vin jaune is then bottled in special squat bottles that hold 62 cl (21 ounces), called clavelins. Historically the bottle size alludes to the amount of wine left over after six years of aging and evaporation.

[How to serve Vin Jaune]

Vin jaune is often served at cellar temperature 13–15 °C (55–60 °F) and the wine is sometimes decanted, exposing it to more oxygen prior to serving in order to stimulate the wine's unique aromas. The wine can be paired with savory food dishes with local Jura cuisine often including chicken recipes where the wine is cooked with the chicken itself and as a sauce component. Another common pairing is the local Comté cheese that is produced in the Franche-Comté region.

[Shanghai Crab and Vin Jaune]

"Shanghai Crab with Vin Jaune" is a wine culture which was created by Hong Kong gourmets and wine connoisseurs. One of the standard way of food matching is combination of wine and food from same region. But seems Jura and Yangcheng Lake have no relationship geographically and culturally. We don't know who connected this Jura wine and Shanghai Crab, but this idea is brilliant. It is a symbolic mixture of food & wine culture of Hong Kong.