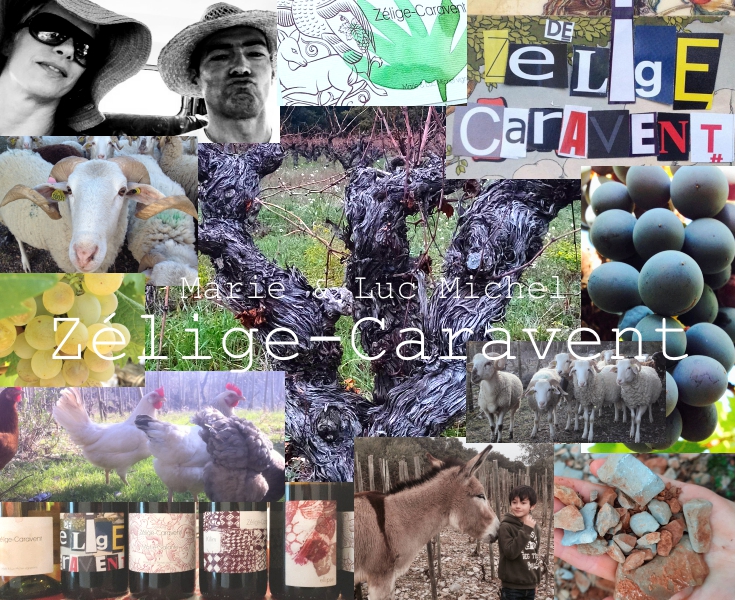 Marie and Luc Michel started their life in nature with 3ha of vineyards in Pic Saint-Loup in 1999. A.O.C Pic Saint-Loup takes its name from Pic Saint-Loup mountain(658 meter/2,158ft) situated in the centre, and its terroir is characterised by a diversity of soil, such as hard limestone, clayey limestone, dolomites, limestone scree, marl etc. These are forming a mosaic on the land.

Marie and Luc Michel were inspired by its mosaic-like composition of soil, and named their winery "Zélige-Caravent". Zélige is a mosaic tilework created by Mediterranean artisans, firing the clay, varnishing, cutting, and assembling into a plaster base. Caravent(Caravan) is a group of people and animals traveling together throughout the Silk Road.


Today, the domaine has expanded to 15ha composed by 25 different plots, and Carignan Syrah, Grenache, Mourvèdre, Cinsault, Alicante-Bouschet are planted. Marie and Luc Michel produce many different kinds of wine from the combination of different plots and grape varietals.
Vineyards are managed biodynamically(certified Demeter) and manually, and chemicals have never been used since the beginning. Old vines(ave.50 years old, some of them reaches 100 years) planted on high altitudes, and extremely low yields makes the pure concentration of the juice. In the cellar, fermentation is executed only by indigenous yeasts, manual pressing and no treatments other than minimum sulfur at bottling.
They blend different wines freely, or sometimes bottled without blend. The assemblage is not the same every year. Also, because Marie draws bottle labels by the inspiration from the feeling of each wine at each occasion, the label designs changes very often.
The wine of Zélige-Caravent is different from Languedoc wine in markets. It's fresh, vivid, well concentrated, and there are no oppressiveness and dullness at all. It's a result of their personality and sincere attitude to the nature and customers.