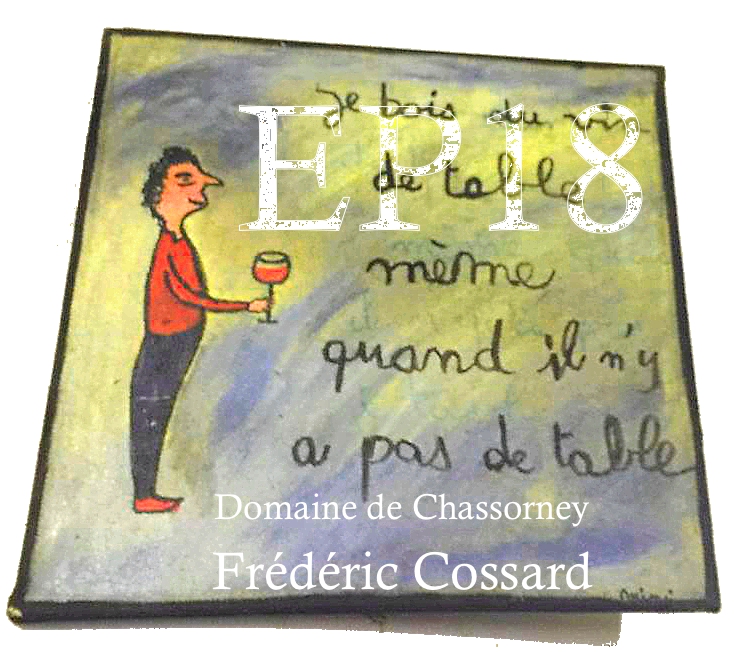 [2018 Vintage]
We are going to release En Primeurs 2018 soon. Stay tuned at Vin et Saké Nature!

In 2018, finally Burgundy could have normal yields after several years of poor vintages for the volume. "Quality of fruits are excellent - small berries with thick skin, and phenols were matured, relatively low acidity. Vinification was not that simple, but results were beautiful for both red and white. Especially it will be an unforgettable vintage for white wine" (by Fred et Laure Cossard)


I have just visited domaine on 7th March and had tasted all red wines. All wines are lively, pure, well concentrated with ripe tannin. No doubt, 2018 is beautiful as usual.

Cossard has implemented QVEVRIS(amphora from Georgia) in their cellar and some wines have been aged in QVEVRIS from this 2018 vintage. I could see difference clearly between barrel and qvevri versions. Barrel versions are much opened, and qvevri version were much tighter and closed at this stage. Let's see how those two different arrangements will develop.

Domaine de Chassorney has remained almost same prices, but they were forced to increase prices for Négos wines due to a rise in grapes prices. Especially prices of white wines climbed up steeply and Cossard gave up Batard-Montrachet eventually. "Other Puligny wines are also high prices, but quality is guaranteed and it will be an unforgettable vintage" said Fréd et Laure Cossard. Unfortunatelly white wines were not ready for tasting when I visited domaine, for so I couldn't try them.

We hope you will be interested in this EP18. This deal requires quick answer and immediate payment, but it's worth to get in on the act.
Stay tuned at Vin et Saké Nature!
- ARRIVAL NOTICE -

To the customers who purchased "En Primeurs 2017 Domaine de Chassorney / Frédéric Cossard"
[2017 Vintage]
Thank you very much for your patience. Your wines of Cossard EP17 will arrive in Hong Kong at the end of March and it will be available for delivery in the middle of April. We will contact you for more details before delivery arrangement.

- Gevrey-Chambertin Les Genevrières
- Morey St.Denis Les Champs de la Vigne
- Morey St.Denis 1er Cru Monts Luisants
- Chambolle-Musigny Les Herbues
- Vosne-Romanée Les Champs Perdrix
- Nuits St.Georges Les Damodes
- Volnay 1er Cru Les Lurets
- Volnay 1er Cru Roncerets - Volnay
- Saint-Romain Sous-Roche

- Batard-Montrachet Granc Cru
- Puligny-Montrachet 1er Cru Les Folatières
- Puligny-Montrachet
- Chassagne-Montrachet 1er Cru Abbaye de Morgeot
- Saint-Romain Combe Bazin

By the way, some people were wondering that Bedeau, Bigotes and series of VdF were not in the list of EP17, but actually we have. These wines will be released after bottles arrival.

- Bourgogne Rouge en Carran [Magnum]
- Saint-Romain Sous la Velle [Magnum]
- Bourgogne Blanc Bigotes
- Saint-Amour
- Bourgogne Rouge Bedeau

Vin de France - Grapes from Jean Francois Ganeveat, Jura
- VdF Skin Contact Savagnin
- VdF Chardonnay
- VdF Pinot-Noir
- VdF Savagnin
* Subject to final confirmation.
* Price in HK$, including ocean freight and delivery charge in Hong Kong (one location) with temperature control. Delivery to the industrial building or wine-cellar which requires gate charge, buyer(customer) takes responsibility to pay those extra charge.
* Delivery time : 9am-7pm. HK$1,200 for strictly on-time delivery.
* Payment : 100% within 7 working days from order confirmation by bank transfer only.
* Delivery Mid 2020
* Minimum order : 1 case (OC6)
* Cancellation after payment : Refundable 50% of invoice amount