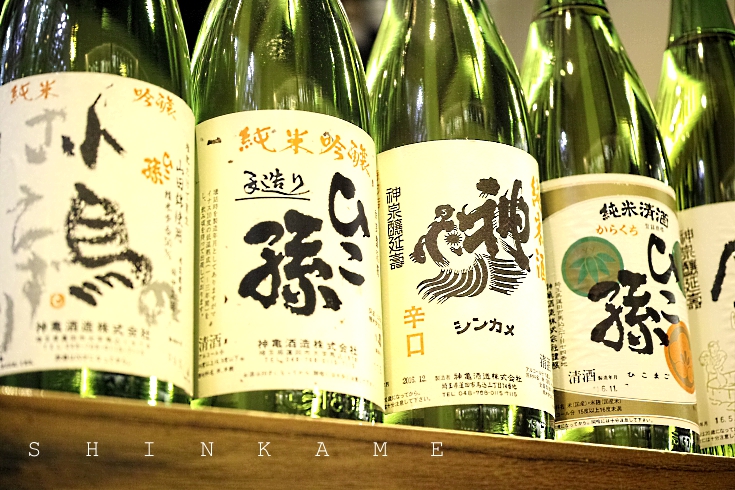 The first "100% Junmai Brewery" after WW2
The most important brewery and the pioneer of Junmai-shu movement

Shinkame Brewery founded in 1848, end of the Edo Period. The shop name at the time was the Iseya Honten. In 1987, the brewery switched all of Sake to be made into Junmai-shu. The first "100% Junmai brewery" after the world war II. Shinkame Brewery has lead today's Junmai-shu movement as a pioneer since that time. Shinkame is the most important brewery in the scene of Junmai-shu movement.

The name of "Shinkame" came from "the tortoise of the divine messenger" that lives in "Tenjin Pond" which was once behind the cellar of brewery. "Hikomago" means Great grandson, it is a brand name of Sake that has undergone ageing for 3 years or more.

Shinkame brewery has been seeking for only good rice. When they had started using organic Sakamai(rice for sake), the fermentation process and the life force of Sake were totally different. "Good Sake comes from only good rice - we recognized this fact again, said Mr. Ogawahara.


Another important factor of Shinkame is maturation. The Sake called Shinshu made in winter time is fresh and we enjoy refreshing young taste in the spring. The sake will mature though the summer to autumn, and will increase the width and thickness to the taste. Usually Shinkame Brewery gives at least two years for "Shinkame" and three years espacially for "Hikomago" to age. And then we will be able to appreciate its round, deep, precise taste of Sake finally.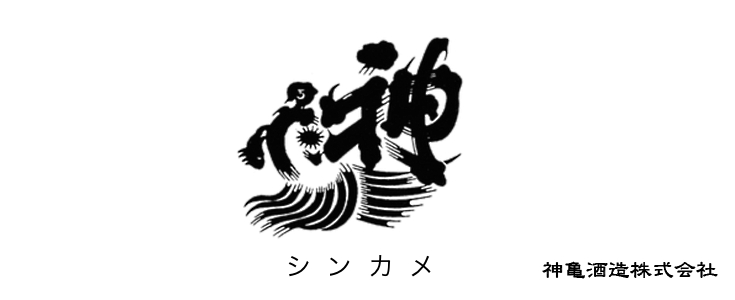 戦後初の全量純米酒蔵。
現在の純米酒隆盛の原点となった最重要蔵
現在の埼玉県蓮田市馬込に位置し、嘉永元年(1848年)創業、天神池に住むという伝説の神の遣いの亀に因んで神亀と名乗った神亀酒造。現在の純米酒隆盛の原点となった最重要蔵と言っても過言ではないでしょう。1987年、戦後の日本において最初に造石全量を純米酒に転換した生産者であり、大手酒造メーカーが造る桶買いのブレンド酒がほとんどであった日本酒生産・販売の潮流の中にあって、純米酒そしてクオリティ重視の酒造り回帰へとつながる道の分岐点を造りだしたのですから。
昭和42年、東京農業大学で醸造学を学んだ小川原良征(おがわはらよしまさ)氏が蔵に戻りました。当時の神亀酒造は四百石弱を生産しつつ、桶買いした酒も瓶詰めして売っていましたが、大手酒造メーカーによる市場寡占化、ワインの台頭と、小規模日本酒蔵の将来に危機感を持っていました。今後の方向性を模索していた小川原氏は、「米だけで造る昔ながらの純米酒造り」と方向を定めました。甘口が主流の当時の市場にあって、神亀の純米酒は超辛口。酵母に糖分を食い切らせた完全発酵。まったく売れずに、造った酒は蔵でただ年月を重ねることとなりました。
三年経ってみてその酒を飲んでみた小川原氏は驚愕したといいます。長期の熟成期間を経てたいへん旨い酒へと変貌していたからです。これが「ひこ孫」の誕生です。大量生産の三増酒・普通酒の時代に、長期熟成させた純米酒を市場に出した神亀酒造は、その後いち早く全量純米酒造りへと転換し、多くの酒蔵が続いています。現在、劇的な品質向上を続け、また新たな可能性を模索し多様化する日本酒シーンですが、今もなお神亀は別格の輝きを放っています。