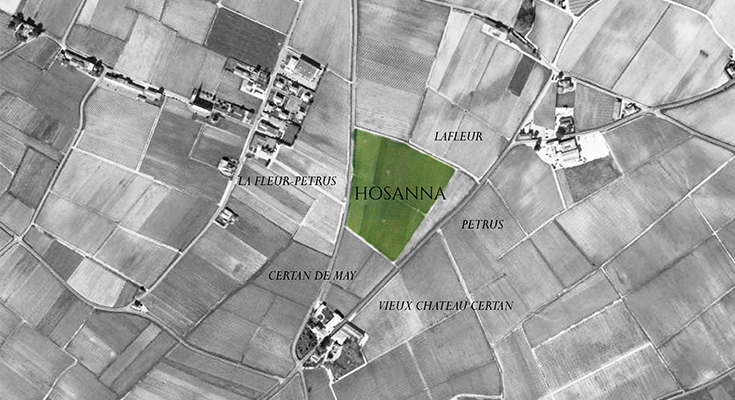 Château Hosanna, a jewel-like vineyard of just 4.5 hectares, is located in the heart of Pomerol's central plateau, adjacent to some of the most illustrious crus of the appellation: Château Lafleur to the north; Château Petrus to the east; Château La Fleur-Pétrus to the west; Vieux Château Certan to the south.

The vineyard of Château Hosanna has a long and rich history. Prior to its purchase by Ets. Jean-Pierre Moueix in 1999, Hosanna was known as Château Certan Giraud, considered one of the premier crus of Pomerol since the 1950's. It was originally part of the de May family estate, who settled on Pomerol's plateau in the 16th century and planted one of the appellation's first vineyards there.

Only the highest plateau parcels of its previous incarnation were selected to form Château Hosanna. The vineyard enjoys a terroir of red gravel and clay on "crasse de fer" which is known for producing wines of great elegance, complexity, and power. Old Cabernet Franc vines, a significant portion of which date back to 1956, contribute a unique complexity to the cru.

A marriage of intensity, purity and balance, its silky touch has led some to describe Hosanna as the feminine counterpart to Trotanoy. (Moueix home page)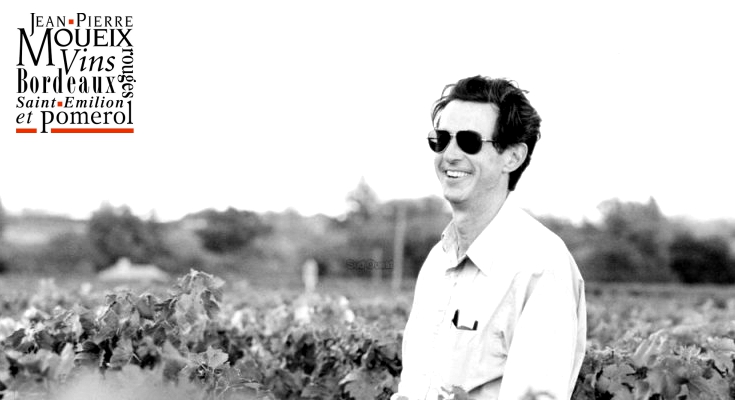 Établissements Jean-Pierre Moueix = JPM, is a Bordeaux négociant house founded by Jean-Pierre Moueix in 1937, situated in Libourne. Jean-Pierre Moueix retired in 1978 and died in 2003. In 1991 his son Christian Moueix became president of JPM, while the grandson Edouard Moueix in the company since 2003.
JPM is famous and respected as a specialist of right bank among the wine-professionals. Exclusively or major part of top chateaux (ex :
Lafleur
,
Gazin
etc) are distributed by JPM. Besides, JPM owns and produces Trotanoy, La Fleur Petrus, Hosanna, Lagrange a Pomerol etc.
Especially, their old vintages have premium value. They have stored all the wines in the cellar in Libourne in perfect condition. Then wines are released after several years (sometimes after several decades). The direct allocation from JPM is considered as the best way to buy old vintages of right bank wines.
Chateau Petrus was managed by Christian Moueix since 1971, but he stated in 2008 his intention to distance himself from Petrus, limiting his role to that of a consultant.
Christian Moueix also owns the vineyards in Napa California, called
Dominus Estate
which is recognised as one of the top California wine.
>>>Go to Dominus Estate